Who We Are
The Forged Alliance RC (FARC) is a national motorcycle riding club founded in New York City by a group of riders known as The NYC Crew. FARC was formed on November 18, 2006. The NYC Crew has been around since May 2003.
We are not a "one brand club." All models and makes of motorcycles are welcome, as are riders of both sexes. We are family oriented. We are not competitive riders. FARC is based on old school traditions and values. We ride to enjoy the scenery and the company of friends. Our primary goal is to have fun.
We are not a 1% club. We are a social riding club. The name of our club demonstrates the commitment we have to our brothers and sisters and our values; Unity - Friendship - Fidelity.
We strive to promote a positive image of motorcyclists, safety, and camaraderie wherever we go. We obey all traffic laws and protect our members by adhering to safe riding practices. We consider ourselves to be ambassadors to the public for all motorcyclists and conduct ourselves accordingly.

We are not territorial and do not condone illegal activities by our members.We ask all our members to wear their patch proudly and to always show respect for all other clubs, and riders. We do not take sides or involve ourselves when it comes to other club politics.
Since we are family, each member has an equal say in making decisions for the Chapter. We encourage and appreciate anyone who wants to "step up to the plate" to lead a ride, recommend a destination, or help out with our membership recruitment efforts. In the same vein, we believe that it is healthy to disagree and openly discuss issues to resolve them. Majority rules and there are no hard feelings.
We are a Riding Club. Simply put...We ride!!
Membership
Joining a riding club such as FARC ensures that there is always someone to ride with and share the adventure. Membership is $25.00 per year. New members receive the club patch on payment of their first years dues. You can apply for membership online. Acceptance into the club is subject to the clubs bylaws.
The Meaning Behind Our Patch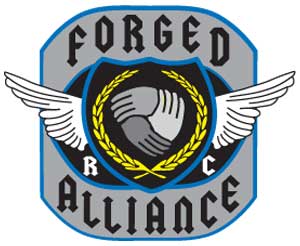 The patch we wear on our backs, is very much like the shield that was carried by Knights while on their quest. Our patch has a shield bearing three hands surrounded by a golden yellow laurel. Each one of the hands symbolize the bond that keeps us together; unity, friendship, and fidelity.
The Laurel is a symbol of victory. With our unity, friendship, and fidelity we will always be victorious.

Yellow symbolizes hope, light and energy.
Black represents power, elegance, and sophistication.
White represents cleanliness, purity, and spirituality. Thus the white wings symbolizing the freedom of our ride.

Grey is the combination of black and white. Grey symbolizes security, maturity and reliability.
Blue signifies trust.
As you can see, the patch we wear is more than just a pleasing design; it stands for the principles on which the Forged Alliance RC was founded.
5/13/2017
FARC National Rally Registration Info - Just 19 days till the early bird special expires, some have asked what does the rally registration include? Registration includes a pig roast on Friday at our meet and greet with DJ, continental breakfast Saturday morning before ride, lunch on the ride, catered dinner after the ride, premier band after dinner, and continental breakfast before departure. All for the low price of $60 before June 1st, this is a $20 savings over cost at the door or after June 1st and also includes free rally shirt. We have thought of everything so don't miss out on this great deal. Contact Angela Rosenhahn for paypal details. Time is running out. Side note, when using paypal you must spell out forged alliance, as opposed to FARC as it appears there is a resistance group out there who also identifies as FARC, trust me on this!
4/8/2017
We've Been Busy. - Seems like it's been years since we last updated the news (it has) but we've been busy, doing what we do best, riding. This years National Rally will be hosted by both Finger Lakes East and West chapters in the scenic (no surprises) Finger Lakes region of New York. The rally dates are July 28-30 2017. The Mountain Lakes chapter in West Va. has adopted Ronald McDonald House as its favored charity and has begun fundraising efforts. By the way, Mountain Lakes will be the host of our 2018 National Rally. All FARC chapter facebook pages can be found by simply searching for FORGED ALLIANCE RC. From the "Better late than ever department" we welcome the New Hampshire, and Central Florida chapters to our family. We probably missed a few things but the road is calling, so look for updates here or on our National facebook page. Ride safe, Gunjinn - National President The Oracle - National Executive Counselor MMJ - National Membership Director Storm - National Event Coordinator Party Boy - National Officer
4/24/2013
NYC Crew 10 Years Strong! - In May 2013, we celebrate the 10 year anniversary of The NYC Crew, founders of the Forged Alliance Riding Club. To celebrate this milestone, a commemorative patch was designed by Ian aka Phantom. Each member of the NYC chapter will be receiving one (free). Congratulations to the Crew. I look forward to sharing the road with you all real soon. Gunjinn
12/31/2011
Weclome 2012 - On behalf of the NYC Crew, we wish all of our brothers and sisters, and their families and friends, a very happy, healthy, prosperous New Year. We look forward to sharing the road with all of you in the coming year.